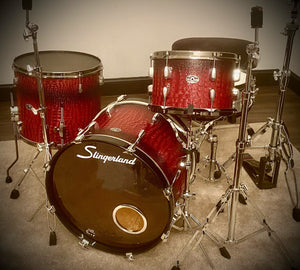 DrumPickers Pick of the Month - April
At DrumPickers we love taking a blank canvas—a raw shell—and creating something brand new around it. But we also love restoring vintage drums. There's nothing quite like that vintage sound with a new-drum finish.
Our Pick of the Month for April combines the best of both worlds: we took a 1972 vintage white Slingerland kit and refinished it with our edgy Gator-Back Red wrap, giving it a new identity that is both swampy and suave.
We added bottom heads and hardware to the toms and made sure all the edges were pristine, for a sound you can really sink your teeth into. With a 12x8" rack tom, 16x14" floor tom, and 20x16" bass drum, these drums will be just as happy slinking into a dimly lit club as they will thrashing away under the spotlight. And of course they will slay in the studio.
Get in touch with us to check out these killer drums in person, or to plan your own custom build or restoration.
See ya later, alligators! (What, too much?)
---