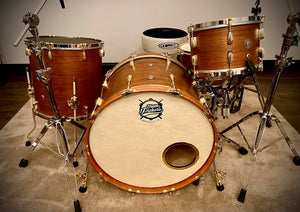 Introducing the DrumPickers Pick of the Month!
With all the great kits that have come through our doors or been created in our own workshop, we thought it was time to put a spotlight on some of our favorites. Every month we'll be featuring a new kit that we're excited to offer on DrumPickers.com.
In true drummer fashion, we're starting this off with a bang—our Pick of the Month for September is the DP Custom Heritage Classic II.
The Heritage Classic II features our "bread & butter" 6-ply Maple/Mahogany shells, which provide superior tonal balance, while rich antique barnwood and 2.3mm brass hoops and other brass hardware make it a classic in every sense of the word. Few drums possess this kit's oozing-with-class vintage look and incomparable sound. The drums are equipped with Evans heads to bring out the best of their natural tone.
Inspired by jazz performances of yesteryear, this kit was designed for the skilled artist who needs an instrument with equal amounts of power and sensitivity (think Elvin Jones, Art Blakey, or Joe Morello). 
Like all DP Custom wood drums, the Heritage Classic II is handmade in the United States with American-produced lumber.
This unforgettable kit is available on DrumPickers.com for $2395, including a matching wood snare drum. Add it to your arsenal today!
---