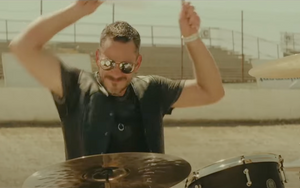 DrumPickers Custom Drums in Action!
We just love seeing our drums out in the wild, doing what they do best. Nashville drummer Jason Munday sent us this new video he recorded with Tony Logue & the 184. 
This is a classic country rock song in the best way, and Jason's laying down a solid groove on his DrumPickers Custom kit. The natural Espresso finish with brass highlights shows a touch of class while maintaining the video's down-to-earth vibe, and his The Beast Hand Hammered Snare Drum adds a healthy dose of bad-assery.
Congratulations to Jason and the band for a great job!
At DrumPickers we want to help you sound your best, and look your best doing it. Check out our full series of DP Custom drum kits and snare drums, or visit our Builds & Restoration page to see what we can dream up together—whether building a new kit from scratch or giving new life to old drums.
Happy playing!
---