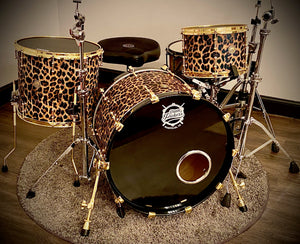 DrumPickers Pick of the Month - March
It's March! The time of year when we start to remember that there's a such thing as life beyond winter (even if it sticks around a couple more months)—and, though we won't mention what 2-year anniversaries our part of the world is "celebrating" this month, let's just say we know we're not the only ones itching to get back out there and get wild!! If you're ready to come back bigger and badder than you've ever been before, we've got just the kit for you. Meet our March Pick of the Month, the DrumPickers Vintage Professional 3-Piece Drum Kit in Screamin Cheetah!
Part of our Vintage Professional series, this kit features 6 plies of maple, mahogany, and walnut with flashy golden brass hardware and a one-of-a-kind cheetah wrap to show off your inner beast. Like our other Vintage Professional kits, these drums will shine sonically in intimate settings, and a bass drum–mounted cymbal holder can be added if you want to minimize your footprint...but we have a feeling you're gonna get this thing rockin'!!
Contact us today for customization options!
---